LORD SHIVA ADIYOGI STATUE
Rs. 499.00

Rs. 499.00

Save Rs. 1,101
Tax included.
---
---
When The World Puts You In Trouble, Mahadev Rescues You.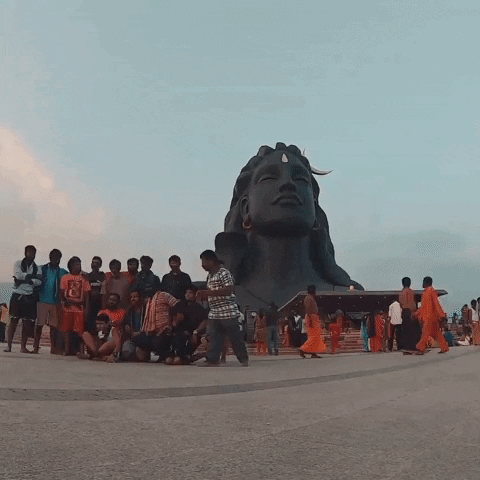 This is a miniature version of the 112-Feet Adiyogi statue, an Incredible India destination in Coimbatore. It is black in color with white-painted vibhuti/moon; golden color earrings/snake . 
You can also keep this in your home's dedicated prayer room or at your work place as well for the devotion and dedication you require and get from Lord Shiva's presence.
Adiyogi is here to liberate you from disease, discomfort, and poverty – above all, from the very process of life and death. It can be a source of positivity and spirituality in your daily life.
As per the vastu, the best placement of ADIYOGI idol can be the northeast corner of your home. One can place the idol of the deity on the altar table where there would be no other statue closer to the statue of Shiva.
You can place it on your table/rack, gift to your loved ones on special occasions/festivals, etc. Clean it with a white dry cotton cloth. 
SPECIFICATIONS:
Product : 1 Lord Shiva 
Material : Polyresin Fiber
Design : Abstract
Care Instructions : Wipe with soft , dry and clean cloth. Avoid Chemical for cleaning, Store in dry place
Country of Origin : India
Net Quantity : 1
Dimensions : 5*4 (inches)
Set Size : Single Pc
Additional Feature : Enlightening our surroundings, Decorating Home
FAQS:
Q. What is the weight of this statue?
A. The Weight of Lord Adiyogi Statue is 220 Gram.
Q. Is this statue washable?
A. Yes, it is washable but we recommend to clean it a white dry cotton cloth.
Q. Does it comes with the glue stick on for car dashboard?
A. No.
SHIPPING & COD


Delivery time for all orders is 3-6 Business days all over India. Cash On Delivery is available too.
---
We Also Recommend